College increases presence and outreach in Asia with Greater China Initiative
by The College of Education / Oct 16, 2012
The College of Education is expanding its presence and outreach in Asia through a new program called the Greater China Initiative. The purpose of the Initiative, which allows for a College staff member to be based in Shanghai for the 2012-13 academic year, is to advance both the global influence and the international impact of the College of Education by promoting faculty expertise, undergraduate and graduate degree programs, non-degree certificate programs, contract projects, and alumni events there.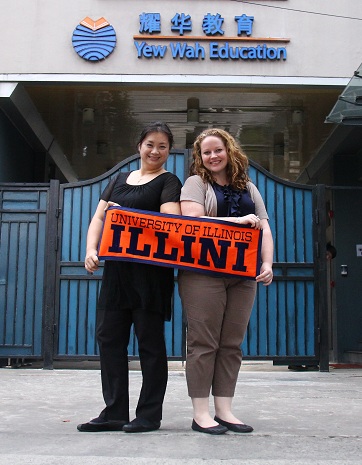 The Initiative is supported in part by campus resources and by the Yew Chung Education Foundation, which will provide office space in the Yew Wah School of Shanghai Changning. The program allows for Lucinda Morgan, the College's on-site coordinator, to work and reside in Shanghai for at least the next 11 months.
Morgan said she is looking forward to representing the College of Education in China in a true physical sense to reach out to alumni, prospective students, educators, and other educational organizations. She'll also pave the way for more of our students to study abroad.
"I am excited that we will have a presence there—to be there physically for more face-to-face interactions," Morgan said. With Shanghai as her home base, "It will certainly be much easier to travel throughout China and Asia to reach out to colleagues, alumni, students, and prospective students," Morgan added.
Ronald L. Jacobs, professor of human resource development and director of the Office of International Programs, echoed Morgan's sentiments about the Initiative, saying, "China has been identified by the campus to be of strategic importance and our plan supports and provides a logical platform for a first formalized foray into China.
"Under the leadership of Dean Mary Kalantzis, having a presence in China has been a long-time plan finally coming to fruition," Jacobs added, "a plan that is a natural extension of the many existing connections the College has with Asia through its vast alumni network, the number of current students from China, Taiwan, Macau, and Hong Kong; and various faculty contacts."
Through the Initiative, the College will be strategically positioned to extend its reach, and in turn, "dramatically expand opportunities for global engagement," Jacobs said. "Having a physical presence in Asia, specifically Shanghai, China, can create new opportunities for Illinois students and faculty to go to China for study, research, and student teaching."
Individuals interested in learning more about the College's Greater China Office and its various initiatives are encouraged to contact Professor Jacobs at rljacobs@illinois.edu.
Photo: College of Education's on-site coordinator Lucinda Morgan (right) with Joyce Francis, in front of the Yew Wah School of Shanghai Changning. Francis is head of both the University Guidance Office and Admissions at Yew Wah.