University extends global reach with office in Shanghai
by The College of Education / Dec 13, 2013
The University of Illinois expanded its international reach with the official opening of the Illinois China office on Monday, December 9, in Shanghai. Representatives from the College of Education's Greater China Initiative desk were on hand to welcome Chancellor Phyllis Wise as well as Chinese dignitaries and educators.
In her recent blog post, Chancellor Wise described the new office as another milestone in building strong Illinois relationships abroad.
"And clearly, China is a place where we have great opportunities to advance the educational, research and economic development missions of the campus," she said. "We count an increasing number of Chinese students and alumni as members of the Illinois family. And they are among our strongest and most steadfast advocates anywhere in the world."
Since 2012, the college has worked to expand its presence and outreach in Asia through the Greater China Initiative. The Initiative, which allowed for a College staff member to be based in Shanghai for the 2012-13 academic year, is to advance both the global influence and the international impact of the College of Education by promoting faculty expertise, undergraduate and graduate degree programs, non-degree certificate programs, contract projects, and alumni events there. Supported in part by campus resources and by the Yew Chung Education Foundation, which provides office space in the Yew Wah School of Shanghai Changning.
The new Illinois China office will open new relationships with leaders in business and academia. Explaning that this office helps remove some of the obstacles of geography and communication, Chancellor Wise said, "By having a physical space in the center of Shanghai, we will be able to really build on our relationships and offer new avenues of exploration for students and faculty alike. It will act as a career center – creating connections among recent graduates for employment opportunities. Our communication to our Illinois family members in China will likely be much better. We hope it will be a little piece of the Illinois experience, right in the middle of a bustling Chinese city."
The opening event was an opportunity to bring together University leaders, alumni, and staff to celebrate new relationships and strengthen long-held ones.
"For years, thousands of Chinese students have been coming to us – to the University of Illinois at Urbana-Champaign," said Wise. "They have left their families for the Illinois prairie, many miles from their homes and families. They embraced the educational opportunities here and used the knowledge and skills they gained here to build their lives and to shape their communities a world away from here."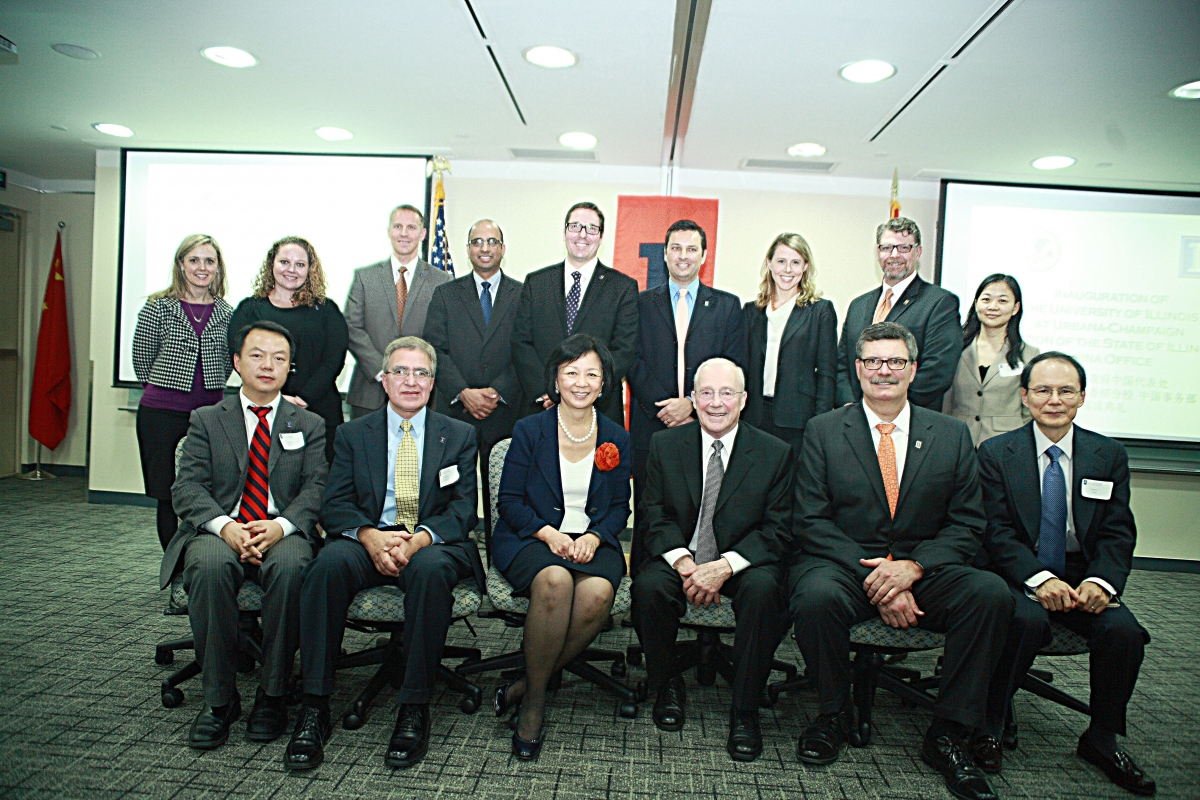 First Row (L-R): Zachary Zhao (State of Illinois office), Pradeep Khanna, Phyllis Wise, Paul Magelli, Larry DeBrock, Jimmy Hsia
Second Row (L-R): Paula Besson, Lucinda Morgan (College of Education Greater China Initiative), Ron Watkins, Raj Echambadi, Bryan Endres, Rajeev Malik, Rebecca Linder-Blachly, Scott Koeneman, Bonny Xu (State of Illinois office in Shanghai)