Students gain valuable multicultural teaching experiences thanks to College's Study Abroad Program in China
by Sal Nudo / Apr 24, 2014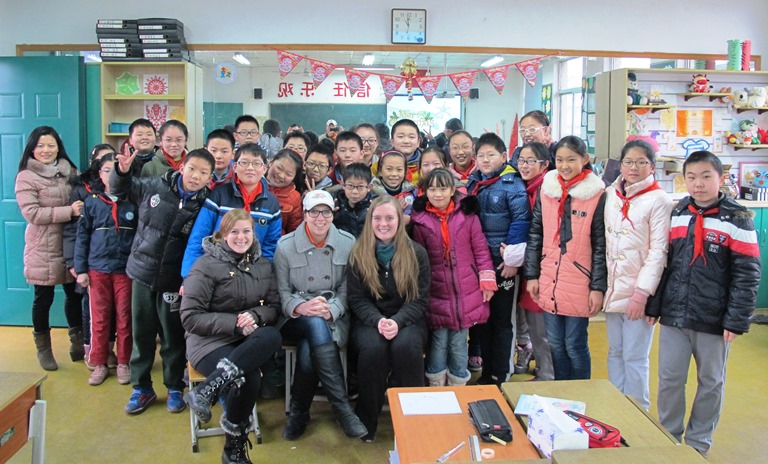 One of the goals of the College's Greater China Initiative is to pave the way for more students to study abroad. As a benefit, all students who participate in a Study Abroad program receive a $500 scholarship from the College. Undoubtedly, though, it's the experience in China itself that offers students the most value.
Illinois junior Melissa Feiger can attest to that. Her enthusiasm for the College's winter 2013-14 trip to China was on display at the 2014 Undergraduate Research Symposium at the Illini Union, where Feiger gave a poster presentation called "American Education System versus Chinese Education System." Feiger, who is studying in the Elementary Education program in the College, was as comfortable talking about physical exercises and multiple assistant principals in Chinese schools as she was about the freedom to take elective courses in American schools.
Feiger said the 17-day experience in China will assist her future career as a teacher in multiple ways. While overseas, she taught English classes that helped her learn different strategies for teaching English Language Learners.
"I've learned a better way using hand gestures, pointing, moving around, a better way of teaching them," she said. "I'm not an expert, but it really did help me a lot."
While in Shanghai, Nanjing, and Beijing, Feiger and her fellow future educators from Illinois visited preschools, kindergartens, primary schools, middle schools, an international high school, a vocational high school, and teacher training programs at universities. While visiting the schools in both urban and rural areas, Feiger said they were able to see the Great Wall of China and many other sites.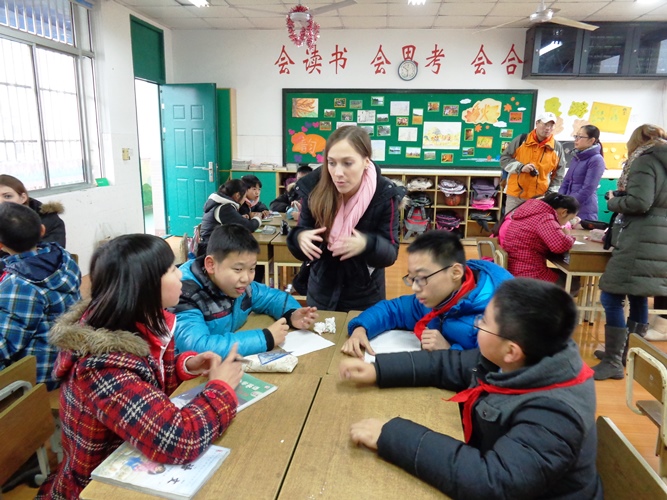 Based in Shanghai, Lucinda Morgan coordinates the Study Abroad Program in the Office of International Programs. The College's presence in China is made possible through a partnership with the Yew Wah School Shanghai Changning. Morgan, who is working toward her doctorate degree in global studies in education, helps students like Feiger by providing lessons about the Chinese way of life, from the country's history to cultural etiquette in modern times. She also assists with the application process and helps students find funding through campus scholarships and the College scholarship.
During the jam-packed two and a half weeks, Morgan acts as a course instructor who guides the students through their research projects and teaches them about China's education system. She said the multicultural growth that takes place within each student is fun to watch.
"It's neat to see somebody who hasn't been able to travel abroad get the opportunity to," Morgan said. "It's nice to see them become comfortable and independent."
Kathy Ryan, assistant dean for academic affairs at the College, accompanied students on the study abroad trip to China during the winter of 2012-13. Noting how the UI students engaged with university professors and administrators about education issues, Ryan said it was the proudest she had ever been of students in the College.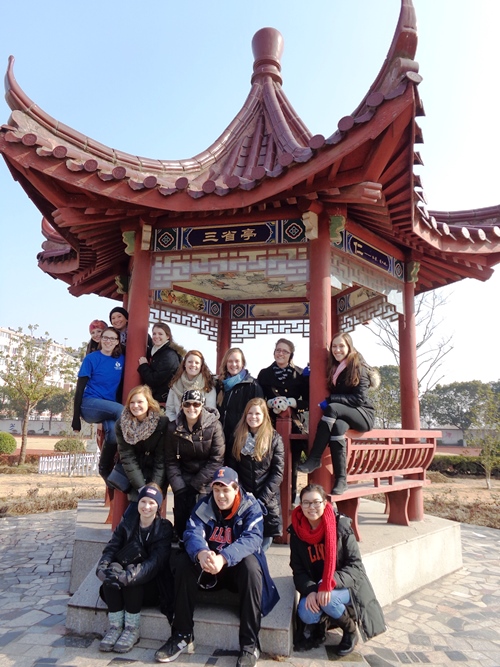 "They worked tirelessly in their efforts to develop curriculum relevant to students of varied ages, taught lessons in unfamiliar environments, and really got to know the students they had the privilege to meet," Ryan said.
Senior Kelly Hahn was on the same trip with Ryan. She loved the China experience so much she created a blog. Hahn said her time in the country was the best, most eye-opening experience of her life. The trip, she said, enhanced her ability to understand cultural and economic differences within the classroom she student-teaches.
Feiger had similar reflections, saying it's important for teachers to recognize culturally different students in a diverse country like the U.S. Rather than potentially dismissing foreign students in America who come off as quiet, Feiger said she now has the skills to guide and teach them. Both women recognize that all teachers will have to understand and manage increasingly diverse student populations in future classrooms, and that it's important to be able to connect with them.
"I think China is only the beginning," Hahn predicted.