College's successful Chinese Culture and Language Camp promotes international outlook
by Sal Nudo / Jul 28, 2015
With one in five people now speaking Chinese, the Chinese Culture and Language Camp provides children with important cultural experiences
Chinese is the world's most widely used language today, according to Ethnologue's online database, spoken by nearly two billion people. Five million people in North America and South America speak Chinese.
With those numbers in mind, the Chinese Culture and Language Camp held in the Education Building July 6-10 provided a new generation of children opportunities to learn Chinese.
Wei Liu, the global education specialist in the College of Education at Illinois, said the five-day camp was part of the college's efforts to promote international outreach—but there was a local objective, as well.
"We're trying to let the (area) schools and students know that the Office of International Programs has many different community projects going on, and this is just one of them," she said.
The camp came to fruition following a visit to China by Dean Mary Kalantzis and Professor William Cope, who were interested in learning more about a Chinese language program created by Betty Chan, director of Yew Chung International School (YCIS), who studied under Professor Emeritus Bernard Spodek and is a longtime supporter of the College. After observing Dr. Chan's curriculum in practice, Kalantzis and Cope envisioned the language camp as a way to bring Chan's language program to area students.
Camp sessions for the fourth- through eighth-graders were tightly packed with language learning, taught by Zoe Wang, a master teacher at YCIS of Shanghai; cultural activities, taught by College senior Katie Yan, of Libertyville; and learning on Scholar, taught by Rita van Haren.
Dean Kalantzis and Professor Cope envisioned the language camp as a way to bring Betty Chan's language program to area students
The Scholar platform provided an interactive Web-writing space in which camp attendees discovered information they wanted to know more about, with topics ranging from Chinese culture to Chinese inventions. The children then wrote short research papers to share with peers and others in the online community.
Teaching assistants Sophy Cai, Janny Chen, and Jenn Raskauskas rounded out the array of instructors who provided a wealth of tutoring throughout the week.
"While we review everything every day, there's still new stuff every day. So it never gets old," said 12-year-old Lucas Wood, who attends Countryside School in Champaign.
Many of the children had very basic Chinese language skills, or none at all. Accordingly, Wang divided the attendees into three groups and revised her lesson plans nightly to accommodate those levels. Her teaching is modeled after the curricula used by Dr. Chan, who has an honorary degree of doctor of humane letters from the University of Illinois.
Wang's teaching focused on the utilitarian aspects of language: Students made introductions, stated their age, and discussed their families, nationalities, and interests. She used slides that showed both Chinese characters and pictures. Though the camp didn't cover Chinese writing, the slides provided a way to connect the pictures with their accompanying characters.
"If they know how to say it, then they can try to memorize the Chinese characters or be familiar with them at least," said Wang.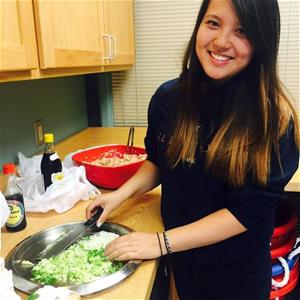 Elementary education student Katie Yan said the majority of the camp kids arrived not knowing how to say "hello" in Chinese. Only a few spoke the language at home. Still, like Wang, she adapted her lessons to their skill levels and personalities, eventually noticing progress. Her activities included a papier mâché dragon project, making a Peking opera mask, Chinese paper cutting, recall exercises, and an activity in which students created terra cotta warriors. One fifth-grader took things to a higher "engineering" level in the terra cotta project, making a warrior bobble head.
"That always amazes me ... having some brief guidelines but then letting them take control of their project," Yan said.
Martial arts and cooking lessons took place on campus at the Activities and Recreation Center, with the latter classes coming in handy for the camp's culminating event—ordering food and drinks in Chinese from the restaurant Bo Bo China on Green Street. Using a menu organized ahead of time by camp organizers and restaurant employees, the children did a great job of ordering the food they wanted, according to Liu.
"In terms of planning, scheduling, and the overall experience for the kids, I think it all worked out really well," said Liu.


Alex Swanson, a former intern with the College of Education, and Allison Witt, interim director of the Office of International Programs, also contributed to this article.