Alumnae reflect on the life-changing impact of their study abroad experiences
by Sal Nudo / Dec 9, 2015
As a child, Education alumna Sandie Linn attended Chicago Public Schools during an era when corporal punishment was in full effect. Boys more than girls were struck with yardsticks for misbehaving, and freethinking was not exactly encouraged, according to Linn.
"Many of the teachers I had as a child believed that shame was the way to get you to learn," said Linn, who studied early childhood education at the College of Education and graduated in 1973. "Ridiculing a student in front of a class—that was kind of their modus operandi. Maybe that's all they knew. I don't know."
Linn excelled in her classes, but such strict classroom methods got her thinking: If a smart kid like her hated attending school, how did struggling students view education?
Even then Linn felt there were better, more encouraging ways to teach children, and she proved it years later. During her final semester at the University of Illinois, Linn was a student teacher at University Primary School, where she practiced the innovative methods taught by forerunners in early childhood education, professors in the College such as Lillian Katz and Theodore Manolakes.
The prior semester at Illinois was an even more formative experience for Linn, who knew in her soul she was born to teach and who eagerly absorbed new ideas on a daily basis. Thanks to the efforts of Dr. Manolakes, the College offered a study abroad program in Bristol, England, where Linn traveled with a cherished friend whom she is still close with today, fellow 1973 Education alumna Debbie Lobatz. The two had met in UI classes and jelled prior to the Bristol trip.
Eager to learn abroad, Linn left the U.S. for the first time and observed with her Education classmates a new form of teaching and learning in Bristol that seemed worlds away.

"My first memory of Sandie was in one of these huge auditoriums with hundreds of people," said Lobatz, who also studied early childhood education. "I remember she asked questions, and that struck me because I would never do that. I was too fearful and shy to ask questions in front of hundreds of people."
Eager to learn abroad, Linn left the U.S. for the first time and observed with her Education classmates a new form of teaching and learning in Bristol that seemed worlds away from the suppressed atmosphere in Chicago classrooms. For Linn, it was a life-changing semester in which she surprisingly had to adjust her English since the language in England is slightly different from what Americans practice. More importantly, and to her delight, Linn witnessed teachers in Bristol who regarded children as people who possess rights, who have hearts, and who are brilliant when given the chance to show their stuff.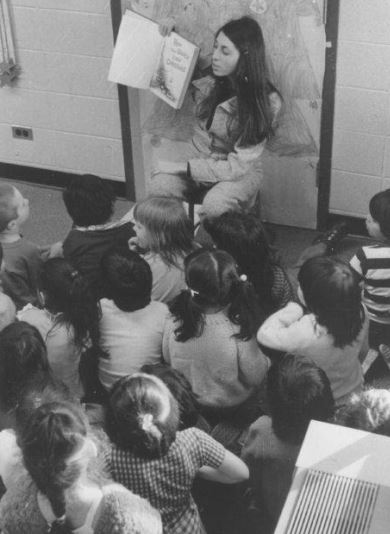 "The English school system at the time was much more forward-thinking in their way of teaching children," Linn said. "It was a time of the open school, the open classroom, so we read A.S. Neill, all the kind of hippie teaching that was like manna to us."
Within that educational setting, Lobatz, who lived and taught in the nearby village of Newton St. Loe, was stimulated by the individualized attention students received, which in her view honored the pupils in a collective way that didn't label. Everyone was in it together to move students forward, according to Lobatz, who today lives in Encinitas, California, not far from Linn, who lives in La Jolla.
The classwork, school visits, student teaching, and independent travel time all made Bristol an invaluable experience, Lobatz said. Her parents, in fact, were amazed by their daughter's transformation after studying abroad.
"They were struck with how much I had matured and developed from being in this program," she said.
The experience was so revolutionary for Lobatz that she later encouraged her daughters to study overseas during their time in college, which they did. Lobatz said the skills she accrued as a student in England also helped her land a teaching job after graduation in the early 1970s, a time in which she found it extremely difficult to get a job in the field.
After working in various professions following a four-year teaching career, Lobatz returned to school at the age of 51 and in 2009 became a licensed marriage and family therapist. Similar to her teaching days in England, she now works in an individualized, non-judgmental manner to get people where they need and want to be in life.
Linn would end up having a much longer career in education than her friend, teaching kindergartners and first-graders in Chicago and moving on to teach English as a Second Language at San Diego Community College District to a multitude of immigrants and refugees from all over the world. During more than 30 years in education, Linn became fluent in Spanish, was one of the first bilingual school librarians in Chicago, attained a Master of Arts degree in instructional media from Northeastern Illinois University, wrote a textbook, learned American Sign Language, owned and helped run a restaurant called Pasta La Vista on the side—with Lobatz as one of the partners—and earned the respect of hundreds of students, many of whom still reach out to her today.
Even in retirement, Linn tutors students in math and English, runs a Facebook group page called College Transition – San Diego, maintains an active blog, and writes content for the online educational site Awesome Stories.
"I like to learn. I like to grow," said Linn, a mother of two sons ages 27 and 31. "I think if you're not learning, you're not living. I hope that as long as I live, and as long as my brain will serve me, I can go and discover new things."
As life members of the University of Illinois Alumni Association, Linn and her husband, Dan, a UI graduate with a degree in architectural studies, have always given generously to Education at Illinois.
"I am so grateful to the U of I for the education I received, and I'm grateful to my students for the opportunity to learn from them while they learned from me," she said.
In addition, Linn's well-known brother, UI graduate Barry Greenstein, who has been a professional poker player for several decades by his own estimation, also gives generously to his Alma Mater. Linn described her brother as "a poker player and a philanthropist."
"He is the kindest, most generous human being I know. He's got a big heart," Linn said.
Such a willingness to give, it seems, runs in the family.
----------
The rich tradition of Education at Illinois students traveling and studying abroad continues today. We provide financial support to Education students who want to study abroad with scholarships or program discounts of $500 per student. To fit our students' schedules these programs take place in the summer and during winter and spring breaks in countries such as Ecuador, Italy, South Africa, Argentina, and many more locations worldwide.
"Research confirms that studying abroad has a profound, lasting impact for teachers, giving them an opportunity to encounter different classroom settings and pedagogical practices," said Allison Witt, interim director of the College's Office of International Programs. "The students spend time outside of the U.S. policy environment to engage with educational issues that they may recognize but are interpreted and addressed in new ways. The College of Education strongly encourages all of our preservice teachers to take advantage of the many study abroad options we have developed to enhance their preparation for diverse classrooms in our globally connected world. Many students report that the experiences inform the rest of their study, while graduates—such as Sandie Linn and Debbie Lobatz—have shared that it goes on to inform their practice and become a treasured memory."