Global Studies student using study abroad, online education to become a better educator
by Sal Nudo / May 19, 2016
Global Studies in Education student Merinda Davis in Hong Kong
Several years ago, back when she was a graphic designer, 33-year old Merinda Davis realized she loathed sitting in front of a computer all day.
So she became a teacher. And then she decided she wanted to travel the world to better convey to her students their place in it, empowering them to become global citizens and environmental stewards.
Prior to 2012, Davis had never traveled beyond the continental U.S. but longed to see the world. A fellow educator suggested she apply for a Fulbright teacher exchange grant to Japan and Davis received the award, serving as communications coordinator during the trip.
"Having those hands-on experiences overseas makes me a better teacher," said Davis, who will earn a master's degree in Global Studies in Education later this year. "I feel like teachers have the multiplier effect, and I can bring those stories to my students, who wouldn't otherwise have opportunities to be there."
"Teachers have the multiplier effect. I can bring those stories to my students, who wouldn't otherwise have opportunities to be there."
- Merinda Davis
Davis has been a teacher at Lakeridge Junior High School in Orem, Utah, since 2010. Through grants and fellowships she has visited Arctic Svalbard, Finland, Germany, Japan, South Korea, Poland, England, Belgium, France, Sweden, Estonia, and Denmark. The experiences have inspired her to create applied projects that help her students expand their worlds. She has developed a sustainability-based curriculum that includes creating documentaries, writing to international pen pals, making videos, participating in online forums, and holding virtual conferences.
In 2013 Davis received an Education of Sustainable Development grant from the McCarthey Dressman Education Foundation, which provides programs that engage, enrich, and inspire learners. The "Sustainable Education through International Understanding" project integrated sustainable education practices through international understanding to help students' world view and teach them applicable daily lessons.
"I work in a low-income school, about 48 to 52 percent in any given year of low-income students," Davis said. "I've been able to use that grant to help students open up their eyes and discover the world and participate and to have some experiences that they wouldn't have otherwise had."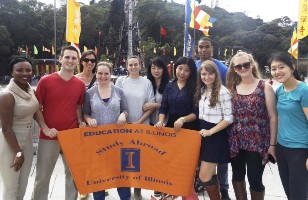 During winter break in 2015, Davis was one of 11 Education at Illinois students who traveled to Hong Kong, where the educators visited numerous classrooms in Yew Chung International School (YCIS), The Chinese University of Hong Kong (CUHK), the French International School of Hong Kong, and Tai Po Old Market Public School. The group also made visits to the University of Macau, Fanling Kau Yan College, the beautiful Victoria Peak, and saw Big Buddha.
Davis said spending lots of time in Hong Kong schools was an invaluable experience that allowed her to set up an online exchange research project with students from the French International School.
This summer she'll travel with Professor Cameron McCarthy and fellow online classmates to Santiago, Chile, an area of the world she's never visited.
Undoubtedly, Davis will take what she learns in Latin America and incorporate it into what are already rich and enlightening lesson plans for her students.
"The College of Education at the University of Illinois has really helped me take all of these international experiences to the next level," she said. "I try to recruit others who want to do grad school online to go to Illinois."