Students expand educational, personal insights studying in Chile
by the College of Education at Illinois / Aug 9, 2016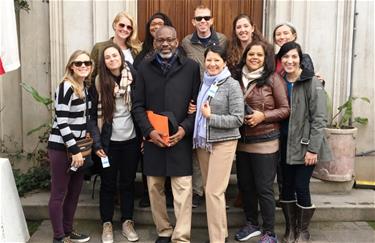 Professor Cameron McCarthy of the Department of Education Policy, Organization & Leadership led a group of students studying in the Global Studies in Education (GSE) program on a July 17-30 study abroad excursion to Chile.
The overseas program was part of the EPS 590 SAX course "Winds of Change: Educational Reform, Student Movements and Public Education in Chile," which also had a pre-tour, online component that began on April 7.
The class, which is open to all graduate students in all College of Education departments, examines the current educational system in Chile in relation to its history, economy, media environment, and political movements.
McCarthy said the experience "represented the fullest realization of the central idea that guides the study tour concept in GSE," which entails learning about a culture through the eyes of its population—individuals who are policymakers, academics, artists, and activists.
"This summer's study abroad tour to Chile gave our students the opportunity to learn about the country in this manner, while at the same time allowing them to take full advantage of the extraordinary cultural life, scenic beauty, and cuisine that Chile offers," McCarthy said. "Each student in our group came to know Chile on his or her own terms."
Accompanying McCarthy were five master's students and two doctoral students in the GSE program, as well as one doctoral student in the Department of Curriculum & Instruction. Michelle Castro, Ph.D. '16 EPOL, also joined the tour.
Samantha Beresid, a graduate student in the GSE program, said the Chile experience was the perfect balance of enriching discussions and in-person experiences.
"My time there improved me as an educator, student, and traveler, and it taught me so much about myself." she said. "It's the trip of a lifetime for any student with a passion for education, travel, and culture."
While in Chile, McCarthy was interviewed by Margherita Cordano, a reporter from the publication El Mercurio. In the piece, which is titled "The formation of global citizens is a primary task," Cordano related that worldwide borders are shrinking and people must adapt.
"Being more aware of the way of life of others, being able to communicate without feeling intolerably rooted to our starting points, is one of the greatest modern educational tasks," McCarthy said in the article.