Exploring Education Camp: Preparing the Next Generation of Educators
by Lea Peck / Aug 6, 2019
Exploring Education Summer Camp at the College of Education provides high school students the opportunity for a hands-on, up-close look into a career in teaching. This year, 25 high school students took part in the two week-long sessions.
From sun up to sun down, campers were engaged in various team building activities, school visits, informational sessions, technology lab tours, and free time to explore the University of Illinois at Urbana-Champaign campus. They also had the opportunity to live in dorms for a week, dine in the dining halls, and experience college life as an Illinois student.
Rising high school junior Heidi Berger said she's been interested in pursuing education as a career for a while and wanted to get a better feel for what that career might look like. However, when she started researching camps focused on education, she quickly learned there are only two in the country—one of which is hosted at Illinois.
For Heidi, her choice was easy. She hopped on a plane and travelled to Champaign all the way from Vermont to attend the first session of camp.
"It turns out that camps for high schoolers considering a career in education are almost non-existent," she said. "The choice was easy to make, if I wanted to go to a camp for education, I was going to go to the University of Illinois."
Between video-chatting with teachers and students in Indonesia, learning about current school issues such as gun control and diversity in the classroom, and building relationships with future educators, to Heidi the trip to Illinois was worth it.
"I would definitely recommend the camp to any high schooler who is considering education as a career. Any amount of travel is well worth the people that you meet and the experiences you are given, both education-related and just for fun."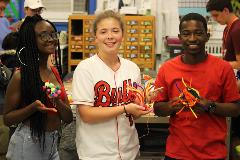 Coordinator for Undergraduate Recruitment and Career Services, Terrance Stevenson, said campers were genuinely engaged with presenters and asked penetrating questions about education, even telling stories about past teachers who sparked their interest in education.
"We wanted the kids to really think about what they would do as a teacher and who they'd been influenced by," said Stevenson. "What impact will you have? What kind of teacher will you be? How will you be a positive influence on your students? They had an answer for everything. And when they didn't, they were willing to learn."
While explaining this year's successful sessions, Stevenson stressed the importance of the camp, emphasizing how special it is for the University of Illinois to host such a unique experience with exceptional campers.
"These two weeks summed up all in one word: enlightening. These kids thought critically and asked hard questions. They impressed everyone; and they walked away having made new friends."
Stevenson said some of the campers are even planning reunion trips to friends' hometowns.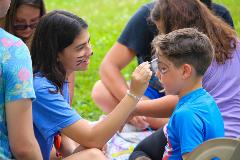 More than a few of the campers commented on how this camp was different than anything they'd ever attended because of the blunt honesty from presenters and mentors. High school junior Nina Carter, who attends Lindblom Math and Science Academy in Chicago, was impressed by how transparent the camp mentors were.
"They're actually talking about education," she said. "I like talking to them because they'll tell you about the important things like student loans and taxes. Not everyone likes to talk about that, but they don't hand hold you. They're telling us the ups and the downs. Not just the ups."
That's something first-time camp mentor Adam Harris really focused on. As a current Education Policy, Organization and Leadership (EPOL) and Global Studies Master's student, Adam has a lot of real-world teaching experience under his belt— including teaching oversees for seven years after completing his undergraduate degree at Illinois. He wanted to really prepare students for a career in education.
"Teaching is a difficult, noble profession," said Adam. "If you want to know what teaching is like as a lifestyle, this is a great place to come. I don't think there's a lot of chances like this anywhere in the country for students to meet teachers who aren't their own. Building that relationship is really important. I'm not here as someone who is giving them grades; I'm here as a mentor to help guide them and show them as much as possible."
Camper Todd Redman, a junior from Naperville who is contemplating a career as an English teacher said it best: if you want to explore education, you should do it here.
"Other universities should take a look at what we are doing here," he said. "This place has so many opportunities and is really making an impact. If other universities follow suit, it would benefit education systems around the world."
For more information on Exploring Education Summer Camp, head to to our website.