GSE Graduate Student Leads Study Abroad in Greece
by Tom Hanlon / Aug 21, 2019
A recent study abroad trip to Greece gave Education students and in-service teachers an up-close view of current issues and challenges in modern Greek education and society.
Before she started kindergarten, Ana Garner learned that red was also rojo and that one, two, three was also uno, dos, tres. "Early on, my mom taught me that knowledge is power," she says.

In high school, piqued by her interest in anime, she began to learn Mandarin on her own. She continued that learning in college, augmented by two trips to China, one to Shanghai University, the other to Fudan University (the "Harvard of China," she says).
It's not surprising, then, that Garner, a PhD candidate in Education Policy, Organization & Leadership (EPOL) in the College of Education, is focusing her work on Global Studies in Education.
"I've always been interested in different cultures," Garner says.
That focus resulted in her co-leading a group of 14 students on a two-week study abroad trip this summer to Greece.
"We had a unique mix of students," she says. "We had undergrads, grad students, and in-service teachers. At first, they were afraid they wouldn't mesh well together. But we learned so much from one another."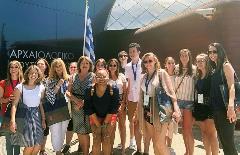 The trip was part of an education abroad class that Garner taught. Before embarking on the trip, Garner instructed students on the different cultures, diverse perspectives, and immigration experiences in both the US and Greece. "The underlying goal was for students to understand the various backgrounds and stories that immigrants and refugees have," she says.
Those stories came out in living color when the students went to American College of Greece in Athens and visited with refugees who received higher education scholarships in a "Camp to Campus" program designed to give displaced students an opportunity to continue their education.
"The air was just thick because of the stories the refugees shared about their journeys," Garner says. "Many lost siblings and parents." To many of the refugees, she adds, such sorrow and loss was the unfortunate norm.
"It took me forever to pull our students away from the refugee students, because we were learning so much from them," she recalls.
Another highlight of the trip, Garner says, was attending a conference in Patras on Diversity in Organizations, Communities & Nations—a conference at which several of the study abroad students presented.
"Our students really loved seeing their classmates present, as well as interacting with scholars and practitioners in the field of education and diversity," she says.
Garner co-led the trip with Kathy Ryan, the College's assistant dean for academic affairs. Another vital member of the group was Mary Kalantzis, an EPOL professor who was born in Greece. Kalantzis served as a moderator on the conference's diversity panel—and led a tour of her hometown, Akrata.
"If it wasn't for those two, I wouldn't have survived!" Garner jokes.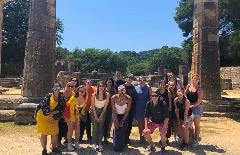 Kalantzis was a wealth of information about the country and its culture and helped the group connect not only to the conference, but to schools in Patras and to other venues as well.
Their trips to smaller towns, Garner notes, were rich in experience. "I did take the students to Greece history and education museums," she says, "and they appreciated that foundation. But they also learned that Greece is not just about Greek mythology. That's just a tiny bit of Greece. In the smaller towns we were able to experience the authenticity of the people and their culture."
Part of that culture—much to Garner's delight—was the ever-present cafés, with inexpensive and very good coffee. She says she became addicted to coffeccino, a mocha-flavored vitamin and nutrient supplement drink that she describes as a "coffee slushy."
"Because no one eats dinner in Greece until about 9 or 10, I finally figured all the coffee shops everywhere were to help people stay awake for dinner!" she says, laughing.
One aspect of the trip that impressed Garner was the spirit of the people they met. "They've gone through a financial crisis, a refugee crisis, and yes, it has had an impact on their economy and society," Garner says. "But everywhere we went, we encountered these amazing, happy people. Their attitude was, 'Let's just live our lives to the fullest.'"

To learn more about study abroad opportunities with the College of Education, visit our International Programs' website.
Taking It All In
Ana Garner made sure her students got the maximum out of their time in Greece. She packed the study abroad trip with a variety of activities, tours, and excursions. Among them were:
| | |
| --- | --- |
| Athens: | Tour the Acropolis (an ancient citadel that contains the remains of the Parthenon and several other historically significant buildings). Visit the American College of Greece, primary and secondary schools, and a refugee center. |
| Patras: | Attend the diversity conference. Visit schools, a refugee camp, and ancient sites (including Olympia and Epidavros). Tour cities and the Patras Castle. |